How can I contact Customer Support?
If you need assistance with an issue that you encountered in one of the following apps, please visit our help pages linked below:
Apps:
How Can I contact Topps Digital Customer Support?
We have several ways for you to reach out for Support!
In-App Settings > Support (Best Option): Head to the In-App Settings menu and tap Support for assistance (see steps below).

This option will save you time by automatically pulling in important information such as your username (if you're signed in), device info, etc.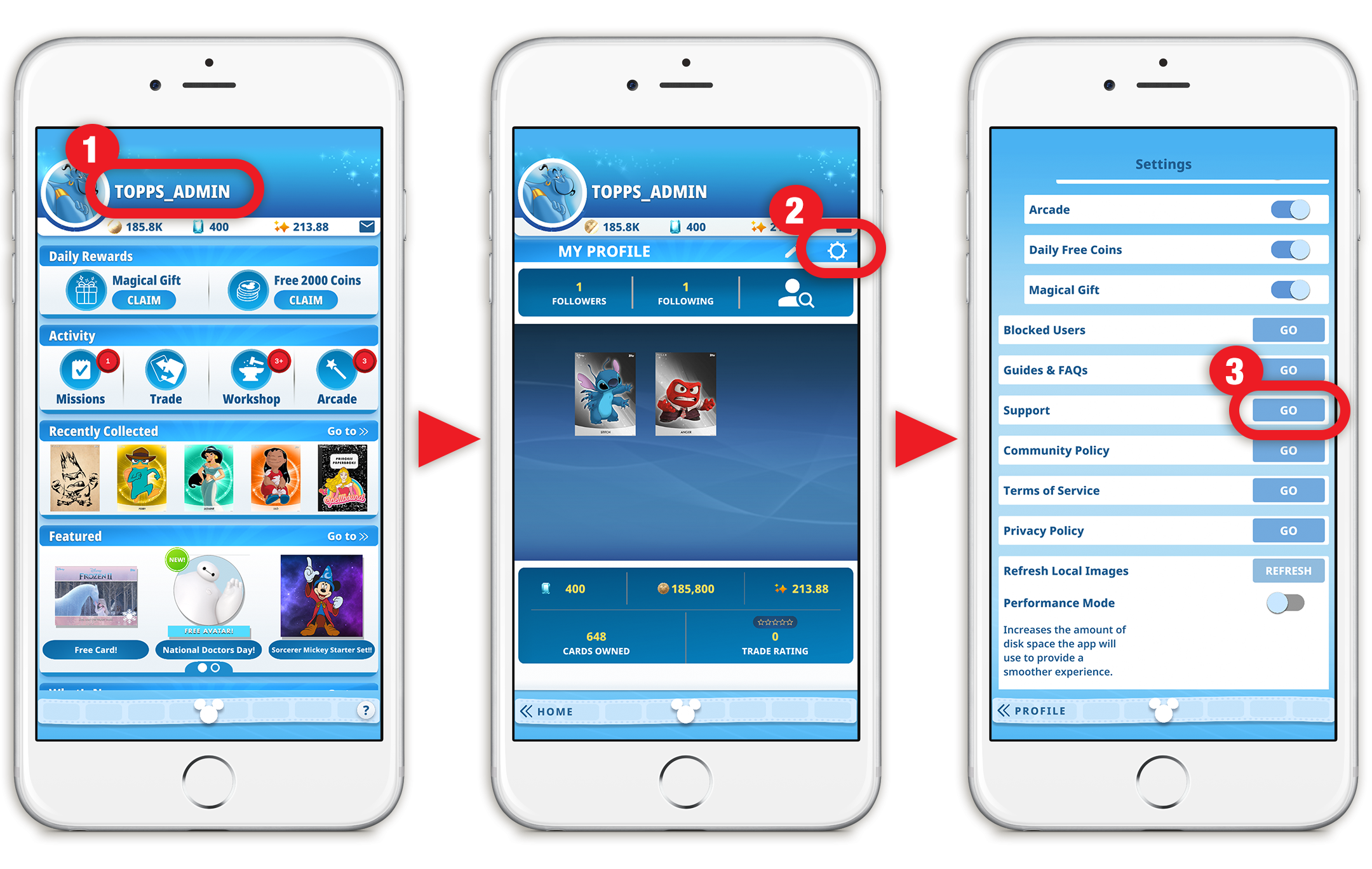 Submission Form (2nd Best Option): Submit a ticket for the applicable app by completing a ticket form, seen here.
Customer Support Email: Lastly you can always submit a ticket by using the applicable app-specific support email address listed below:
Still need help? Contact Support
Frequently asked questions
In its simpliest form, the object of our apps is to amass a collection of of characters, athletes, superstars, illustrations, and other forms of collectible creative to celebrate one's love for a particular sport or entertainment brand. App users aim to complete sets to earn collectible awards, build up their collection score via various in-app activities, upgrade their collection by combining cards to craft into more rare collectibles, complete Missions to unlock unique content, and also connect with and follow fellow collectors who share a similar passion for collecting and a specific fandom.
If you need assistance with an issue that you encountered in one of the following apps, please visit our help pages linked below:

Apps:

How Can I contact Topps Digital Customer Support?

We have several ways for you to reach out for Support!

In-App Settings > Support (Best Option): Head to the In-App Settings menu and tap Support for assistance (see steps below).

This option will save you time by automatically pulling in important information such as your username (if you're signed in), device info, etc.

Submission Form (2nd Best Option): Submit a ticket for the applicable app by completing a ticket form, seen here.
Customer Support Email: Lastly you can always submit a ticket by using the applicable app-specific support email address listed below: